Collections
Are you at the stage of decorating the interior of your dreams? Are you looking for decorations that will fit perfectly into your arrangement? Explore the bimago wall decoration collections! Here you will find the most fashionable colours and motifs, thanks to which you will bring a unique atmosphere into your interior. Especially for you, we have gathered all the collections of interior decoration in one place to make your choice more accessible and more pleasant. By choosing accessories from a single collection, you can guarantee that your interior will be in unique harmony. Familiarise yourself with the fantastic products of bimago, explore the interior decoration collections and create a beautiful and functional space with us!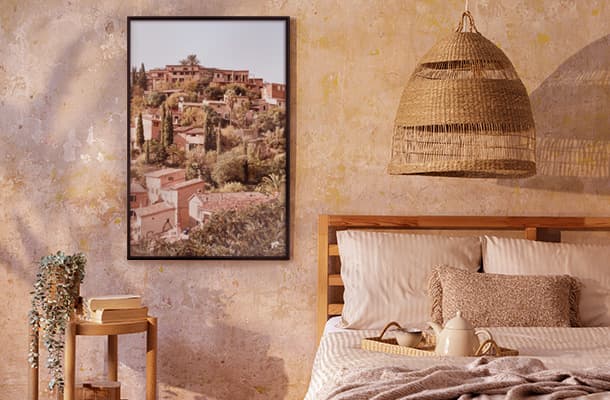 Siesta Española
Siesta Española is a collection inspired by the golden sun of Spain. Charming streets, hot beaches or small hilltop villages will bring a calm and cosy atmosphere to your interior. A muted and timeless colour scheme prevails here, perfectly reflecting the Spanish siesta atmosphere. Your space will become a place where time flows much more slowly, and every moment is a true pleasure. The Siesta Española collection is the ideal solution for those who wish to create a natural oasis of calm in their home or flat. The canvas prints from the collection are perfect for boho arrangements. Feel the beauty of the Spanish lifestyle, be close to nature and enjoy a unique interior from bimago!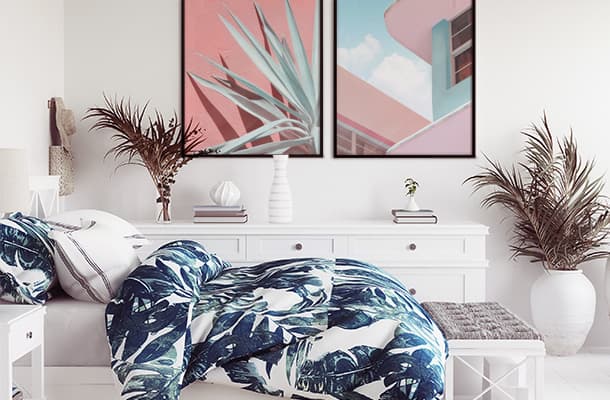 Miami Vibe
Miami Vibe is a collection for lovers of great metropolises and endless entertainment. It's an explosive mix to create a unique atmosphere in your interior! The collection took inspiration from the vibrant city of Miami, where you can find the characteristic tropical vegetation, a Latin vibe and American glamour. The city full of pastel colours creates a slightly candy-coloured and, at times, unreal image. Miami Vibe wall decoration is synonymous with a fairytale world where everything is more beautiful and simple. Bring a bit of American flair to your interior and look at the world... through rose-coloured glasses from bimago!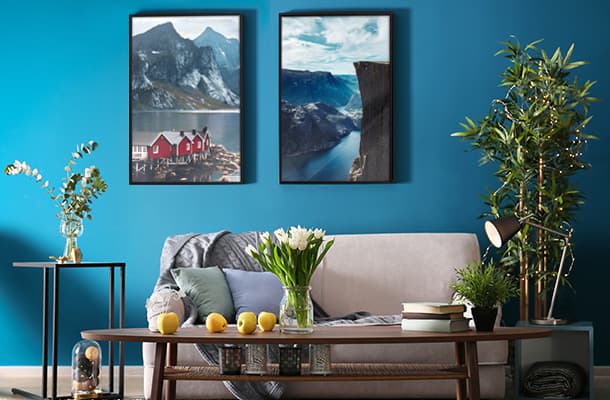 Majestic Nature
Are you a true enthusiast of nature? Does it bring you solace and relaxation? Create a natural oasis of calm in your interior with the Majestic Nature collection. Discover with us the most beautiful corners of the world and feel the magic coming from the mountains' tops, the lakes' depths or the waves crashing against the rocks. Majestic Nature is a collection inspired by the unique landscapes of Scandinavia, where mountainous landscapes intertwine with the beauty of the vegetation and charming architecture. This collection will create an interior with a truly tranquil atmosphere inspired by nature and all that is best. Marvel at the Nordic landscapes every day and feel the energy within.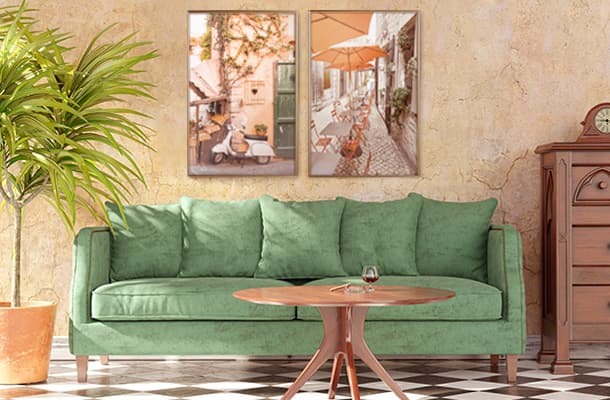 Dolce Far Niente
The Dolce Far Niente collection is for lovers of Italian style. Carefully designed compositions will create a unique atmosphere in the interior, which will remind you of carefree time spent in the land of the sun every day. Warm and subdued colours combined with amazing landscapes are a recipe for a cosy interior ideal for rest and regeneration. The Dolce Far Niente collection is all about breathtaking Italian landscapes - from the azure colours of the sea to monumental buildings to intimate streets steeped in Italian temperament. Bring the unparalleled atmosphere of Italy into your home and enjoy its beauty every day.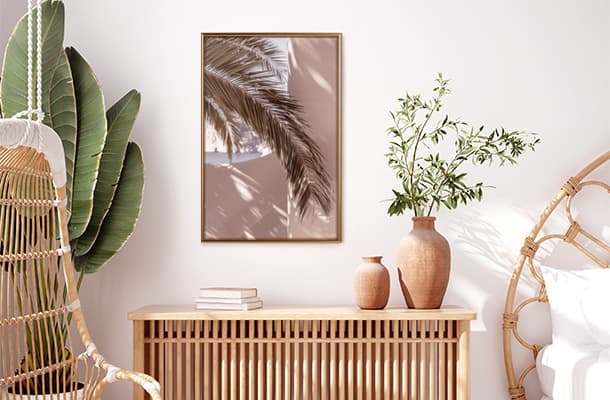 The Island Story
The Island Story is a collection inspired by an exotic island. It is synonymous with carefree moments amidst the azure ocean, golden sand and green vegetation. You will find paradisiacal landscapes and seaside details here. And all this in a muted colour scheme of pastel beige, turquoise and green. Canvas prints and posters from The Island Story collection will allow you to create an atmosphere of eternal holidays in your interior - a zone without tension and gloom. Discover the beauty of the beach, dive into the azure waters and relax under the giant leaves of exotic trees. Feel the unique atmosphere of a deserted island, which you can now have in your flat. Enjoy the paradisiacal views at any time of the day or night with bimago.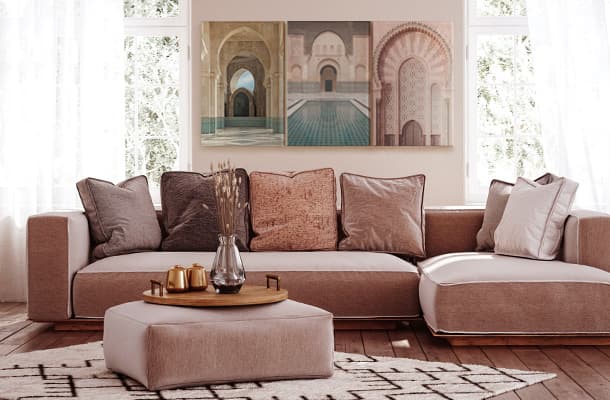 Under the southern sun: Morocco
The collection Under the southern sun: Morocco consists of canvas prints and posters inspired by the oriental climate of the African country. These decorations are ideal not only for fans of distant travels but also for all those who want to feel the breath of the orient in their interior. The motifs include landscapes ranging from mysterious coastlines to intimate town streets and unique ornaments characteristic of Moroccan culture. There is also no shortage of majestic buildings, desert vegetation and symmetry. Feel the unique atmosphere of a country where the Mediterranean climate intertwines with Arab heritage and create the interior of your dreams with bimago!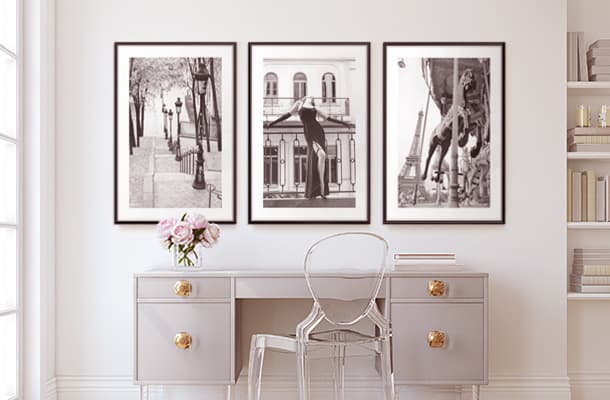 View of the city: Paris
View of the city: Paris is a collection inspired by the romantic aura of the French city. Here you will find trendy interiors, classic architecture and the mystery hidden in the narrow streets of Paris. The elegance of the French capital is emphasised through traditional colours. In the collection View of the city: Paris, you will find black and white proposals perfect for subtle feminine interiors. Urban landscapes such as the Eiffel Tower, townhouse interiors or the Sacre-Coeur clock will also perfectly emphasise the industrial style and will undoubtedly find their way into retro settings. Feel the atmosphere of this unique French city and bring it into your flat with bimago!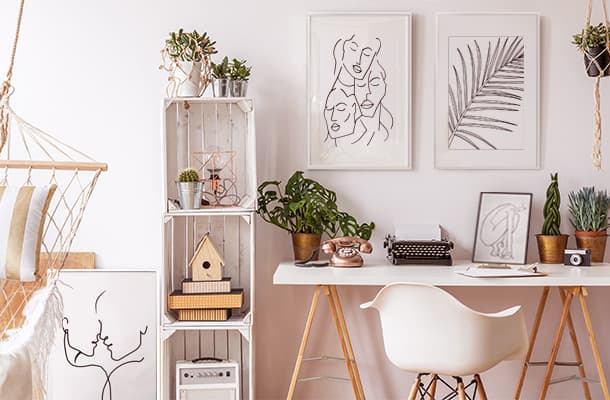 Line Art
Line Art is a collection that is sure to be loved by fans of minimalism. The aesthetically pleasing compositions will perfectly emphasise a space's romantic and subtle character and will fit in with arrangements decorated in the spirit of minimalism. The collection's central theme is delicate lines that can express more than a thousand words. They can be mysterious and ethereal but also intriguing. In the Line Art collection, you will find abstract, floral and plant motifs. It is also worth noting the minimalist paintings and posters showing the beauty of the human body. Subtle portraits or romantic nudes will constitute a perfect bedroom decoration.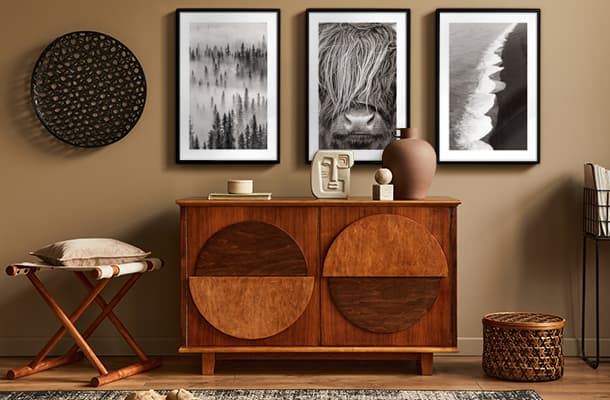 Into the Wild
Into the Wild is a collection inspired by the beauty of nature and all the emotions it evokes. These artistic outdoor photographs bring an atmosphere of melancholy and reverie into the room. Into the Wild is a representation of nature in autumn. The collection features hills bathed in the last golden rays of the setting sun, a calm sea at low tide, green meadows and mysterious forests submerged in mist. Into the Wild is delightfully expressive and was created for people who find solace and strength in nature. It is also ideal for those who want to bring a magical and unique atmosphere into their interior, where they can find space for contemplation and tranquillity.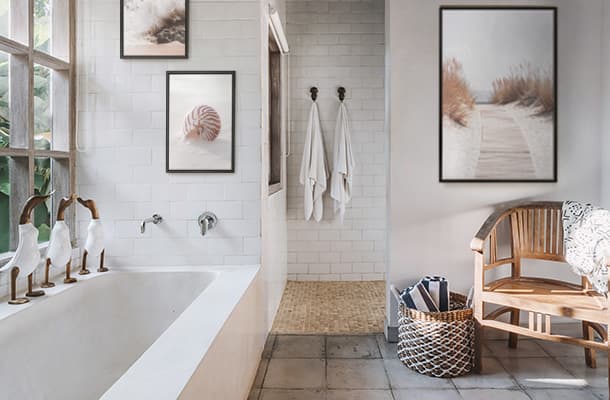 Embrace the moment
Embrace the Moment is a collection of canvas prints and posters that combine subtlety, the fleetingness of the instant and a sense of being free. Maintained in intensely warm and timeless colours, the decorations are sure to bring calm, tranquillity and lightness to a space. You will find stunning desert dunes, exotic plants, seascapes or unique architecture among the available motifs. All bathed in the beautiful golden sunshine, revealing the world's true beauty. The Embrace the Moment collection is a proposal for all those who wish to bring a few holiday memories into their interior, which make a person feel free, happy and carefree.
New collections
.
Are you dreaming of a fashionable arrangement for your interior that will attract attention? Discover our new collections of wall decorations that can be successfully used in homes and flats, offices and catering establishments, and public facilities. With carefully selected paintings, wallpapers, wall murals, and screens, you can create a one-of-a-kind arrangement and transform even the blandest space without needing renovations and other complicated, time-consuming procedures. In developing our themed collections, we were inspired by, among other things, the much-visited Mediterranean countries and wild, breathtaking nature in various guises. Still, there is plenty of different motifs. We are convinced that you will find a decoration that suits your taste and fits your particular room among our suggestions. Take a look at our new collections!
read more
read less
Interior decoration collections
.
Interior decoration ideas can be inspired by sunny corners of the Mediterranean, capturing landscapes and magnificent architecture and conveying the extraordinary atmosphere of vibrant localities. In bimago, you will find, among others, a collection showing the beauty of Spain. It includes paintings and wall murals with rocky coastlines, beaches, flowery, narrow streets, or citrus fruit. The Dolce Far Niente collection, which will win the hearts of lovers and admirers of Italy, is also an idea for an arrangement in a holiday climate. It includes paintings and posters with motifs such as sandy beaches with umbrellas, monuments, Tuscan landscapes, and characteristic cafes where you can take refuge from the sun for a while. For travelers and lovers of famous metropolises, on the other hand, we propose decorations with Paris - a city that attracts tourists from all over the world. Minimalist paintings and posters in black and white with the famous Eiffel Tower, streets, and backstreets of the Montmartre district will give an elegant character to your rooms.
Interior collections
.
If you like tropical vibes, you can arrange your interior with decorations from The Island Story collection. You will find sunny, light-filled motifs that will make you feel the atmosphere of holidays and relaxation. You can use motifs depicting nature, whether native or exotic, in virtually any room. These can include sandy beaches, palm leaves, or seashells. Our interior design collections are also proposals for lovers of the wild, untamed nature of the countries of the North. Among others, you will find paintings immortalizing somewhat raw, Scandinavian landscapes. Canvas prints and posters depicting snowy mountain peaks, lakes between the mountains, the aurora borealis, or Scandinavian fjords will allow you to create a timeless decoration in your room. You can also bring a touch of wilderness into your interior with the decorations from the Into the Wild collection. It will transport you to the outdoors, meadows, misty forests, and tranquil bays.
Current collections in interior design
.
At bimago, there are plenty of solutions for lovers of more artistic decoration. We propose the Line Art collection, based on minimalism and delicate line. In it, you will find subtle floral motifs and human figures in an abstract perspective. These decorations, kept in subdued colors - shades of white, brown, or grey, are a recipe for an elegant room in line with current trends. The paintings, wallpapers, wall murals, and screens from our collections will allow you to create a pleasant room arrangement that will suit your needs. They can also become an inspiration for your interior decoration ideas.